Subcategoría

Todos

(4)
Página 1 de 1

***
Top User
EMPLEO - Ofertas de Trabajo
Unusual opportunity modern small animal clinic Birkenfeld Germany
17.11.2017
Are you interested in an unusual opportunity and experience?

We are a modern small animal clinic in Birkenfeld, Germany providing high quality veterinary care. Special emphasis is given on dermatology, surgery, internal medicine, diagnostic imaging (incl. computerized tomography) and other advanced diagnostic capabilities. (www.tierklinik-birkenfeld.de )

The Birkenfeld … » más
www.tierklinik-birkenfeld.de

***
Top User
EMPLEO - Ofertas de Trabajo

GAMMA TESTING POSITIONS AVAILABLE ACROSS THE UK
18.09.2017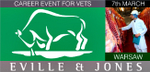 Are you competent at working with large farm livestock?
Are you competent at blood sampling farm livestock?
Do you have experience as a vet technician?

WE WANT YOU!

__________________________________________________

THE BENEFITS
- Full - Time Positions
- Competitive Salary
- Mileage Covered
- Develop your English … » más
www.eandj.co.uk

***
Top User
EMPLEO - Ofertas de Trabajo

AUXILIARES DE INSPECCION Y VETERINARIOS OFICIALES
10.09.2017
¿ERES VETERINARIO Y QUIERES TRABAJAR EN REINO UNIDO?


Eville & Jones es el mayor proveedor de servicios de inspección sanitaria en mataderos para el gobierno del Reino Unido. Con una plantilla de más de 500 veterinarios, tenemos varias oportunidades de empleo para veterinarios en Inglaterra y Gales.

Como empresa líder en el sector, nuestro equipo experimentado … » más
www.eandj.co.uk

***
Top User
MISCELLANEA - Educación Continua

Survey: Volume replacement therapy and the use of colloids in small animals
15.04.2016
Please support our initiative to assess current trends in volume replacement therapy and the use of colloids in small animals by participating in a short survey: https://www.research.net/r/VetSColloids

It should take only 6-8 minutes to complete and your answers are collected anonymously.

Thank you for taking the time to complete the survey.


… » más
www.research.net/r/VetSColloids