Physiotherapy on Dogs: the KEIPER Underwater Treadmill


Physiotherapy on dogs with underwater treadmill - aquatic therapy

Aquatic therapy, also called hydrotherapy, aqua training or underwater training, is a very effective method of rehabilitation in dogs to build up muscle strength and improve mobility without any additional stress on the joints.


---

Underwater treadmill for physiotherapy and aquatic therapy on dogs

The WATER-WALKER® underwater treadmill makes it possible for an animal to exercise muscles, tendons, ligaments and joints of limbs following injuries and / or surgery (animal physiotherapy). The buoyancy of the water removes much of the pressure from the painful limbs. Dogs quickly regain muscle tone and range of motion in limbs that have atrophied due to injury.

When dogs are using the underwater treadmill (aqua trainer), they are able to work on many things at one time. Their gait is often exaggerated, new muscle groups are engaged, extra balance is required on the treadmill, they are able to bear weight on guarded limbs better, and the treadmill compliments both neuromuscular re-education and agility.
The viscosity of the water creates resistance to the muscles, resulting in a great strength and endurance workout (aquatic training).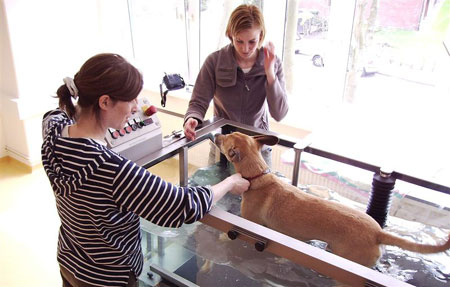 Underwater treadmill for dogs - aquatic therapy


Areas of use for the Keiper underwater treadmill in animal physiotherapy


Physiotherapy: rehabilitation and recovery after surgery, injuries and orthopaedic disorders (dog physiotherapy)

Wellness and fitness training without additional stress on the joints due to water buoyancy

Effective aid in the faster recovery of neurologic disorders

Exercise therapy for muscle build-up and circulation training

Treatment of temporary paralysis and coordination disorders of the musculoskeletal system

Swim training and improvement of performance in sport dogs

Compensation for lack of exercise and improvement in muscle tone

Effective swim or walk exercise using water counterflow system

Thermotherapy with thermostat controlled water temperature ranging from
10 – 40 °C

Dry run training

Water massage above or under water

Desinfection baths


Physiotherapy on dogs: hight regulation of the underwater treadmill during hydrotherapy (aquatic therapy)




Underwater treadmill for dogs - cleaning position


The advantages of hydrotherapy on dogs (aquatic therapy) with the KEIPER WATER WALKER® have been regognised and confirmed by a wide circle of experts.

The aqua trainer (underwater treadmill) can be accessed and the movement of an animal can be easily observed through the glass from all sides for optimal work and training conditions.
Its ergonomic and innovative design combined with low maintenance and safety was developed in cooperation with animal physiotherapists and veterinarians, and is recommended by small animal hospitals all over Europe. Ample accessories can be added, like reverse energy flow with an underwater massager.
This makes the WATERWALKER® underwater treadmill for dogs an indispensable training equipment for recovery as well as for wellness and performance training (dog physiotherapy / aquatic training).

The KEIPER WATER-WALKER® was distinguished with the Innovation Award 2004.

For more detailed information about the KEIPER WATER-WALKER® underwater treadmill, examples of operation and media reports on physiotherapy in dogs please visit www.water-walker.de



KEIPER underwater treadmill for dogs
Address of the producer:
Keiper Fördertechnik
Landsbergerstraße 12-15
67823 Obermoschel
Germany
Phone: (+49) 06362 - 721
Fax: (+49) 06362 - 3430

Internet: www.keiperkg.de or www.water-walker.de
Email: info@keiperkg.de







Tell a friend | Print version | Send this article




ESVN-ECVN Symposium 2018
We welcome you to wonderful Copenhagen where we will entertain you with stimulating scientific sessions, neuronal networking and out-of-this world experiences.

The theme is: Evidence-based Neurology: Neuro signs to Neuroscience - and back