Electronic ID: Lost no longer
Register your bag and win a trip to Paris

OK, so this year's congress bags are beautiful. The only problem, they are all alike and there are some 2,500 of them around. In order to sort out which one's yours, the congress organisers had a great idea: put a microchip in the label. The Indexel© ID chip, visible in a small slit in the lower part of the label, was supplied by Merial and can be read at three "ID points": the Merial, Fecava and EuroPetnet stands.
Congress participants are invited to have their chip read at one of these stands - not only a fool-proof way to prove your bag's ownership, but also a way to win a trip to Paris! Further information is available at the stands.
Electronic identification is not only a standard accessory of bags here in Granada, but as your Spanish colleagues will tell you, Spain was one of Europe's first countries to have adopted this technique to identify pets. No wonder that the veterinary profession in Spain has been actively involved in EuroPetnet, the European data base network of electronic identification of pets. Want to know more? Why not attend the session on electronic identification in Europe? (Fecava, EuroPetnet, Sunday 9.00 am - 1.00 pm, Seminarion 3-4-5)


| | |
| --- | --- |
| | |
Flamenco School
Free classes at congress
For those keen to learn how to kick their heels and swing their skirts the Flamenco way, here's a fantastic opportunity! Granada's top Dancing School, the Conservatorio de Dansa de Granada, supplies teachers for two-hour classes during Friday and Saturday. Sessions will taken place at congress in a specially adapted hall (Sala de Prensa, floor 2, near the Commercial exhibition). Why not go there tomorrow and show off your skills in the evening at the Flamenco Fiesta?
Four classes will be held each day. Inscription is free but registration is requested, and places are limited to twenty participants. Interested participants need to sign up at the Hill's hospitality desk, located in front of the Congress Documentation Handling and Technical Secretariat (Palacio de Congresos, Floor 0).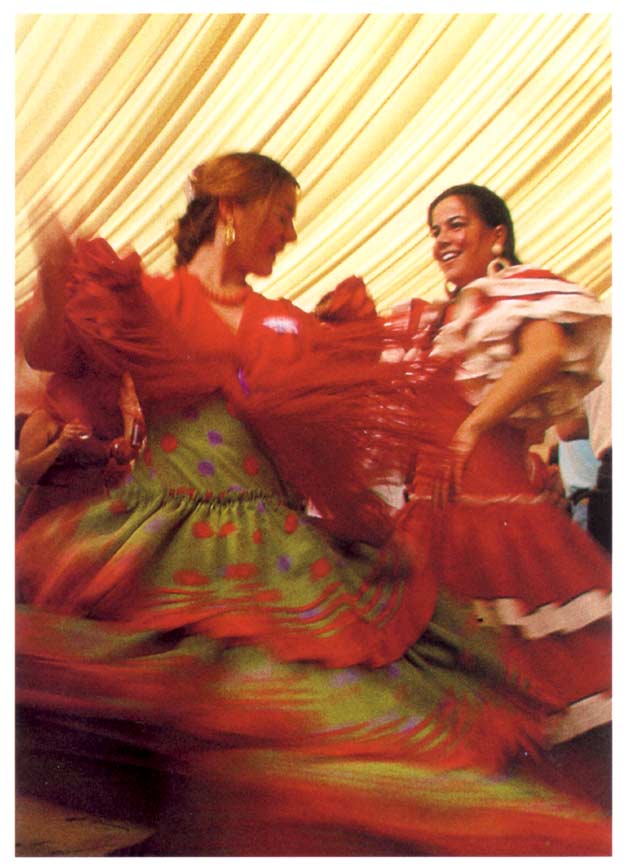 Flamenco Show
Performance by Antonio Canales

The magnificent finale which is to close tonight's opening ceremony will be given by the famous flamenco dancer Antonio Canales. An internationally-recognised artist, Antonio Canales returned to the Spanish stage after triumphing on his latest international tour. After travelling around the world with his latest show, he will put on an exclusive performance specially produced for our congress.




Antonio Canales was born in Seville in 1961. His grandfather, from whom he borrowed his stage name, was a singer; his mother, a dancer. Canales began to study classical dance at 13, with Maria Luisa Rivas. At age 17 he was selected by the Spanish National Ballet and moved to Madrid. On the advice of the great Antonio, who directed flamenco for the Ballet, Canales specialized in flamenco, without giving up classical ballet. Within four years he became the company's lead dancer.
He then worked at the Madrid tablao (flamenco club) Los Cavales. On tour with the National Ballet in Syracuse, he met Maguy Marin, who cast him in the main role of her dance piece, Calambra.
In 1988, he received Italy's Navisela Award. Returning to Spain, he appeared in more than 50 original dance pieces as lead dancer for such important flamenco companies as Luisillo, Manuel Vargas, Cumbre Flamenco, Rafael Aguilar, Carmen Cortès and others.
Invited to numerous festivals and galas alongside the great international dancers, he crossed paths with Maia Plissetskaya, Rudolf Nureyew, Sylvie Guillem, Carla Fracci, Patrick Dupond, Peter Schaufluss and Julio Bocca. In 1990, he and Bocca shared Mexico City's Best International Dancer award.
In 1991, he appearded at the World Financial Cencer in New York for the 500th anniversary of the discovery of the Americas, at the Festival of Holland, at the Meiji Hall in Tokyo. In 1992, he started his own company and toured the world with his own dance ballet: Carmen Amays and Torero.
At the same time Canales continued his career as a soloist. In 1994, he received the Gold Insignia of the Perla of Cadix. In 1995, he was named member of the National dance Council by Spain's Ministry of Culture. He received the National Dance Prize and was given his own dance center. His company has since toured the world