A Slovak president for WSAVA

First contacts with the WSAVA date back to the late eighties, when Gabriel Varga (41) was a young lecturer on small animal internal medicine at the Slovak Veterinary University of Kosice. "Since local information and further education on my subject was rather limited at that time, I started looking for valuable information in various international journals. This is how I came across the WSAVA for the first time: In one of the issues, there was an invitation to the WSAVA World Congress in Harrogate…". And in spite of the fact that travelling was far from easy in those days, Gabriel and a colleague decided to attend the WSAVA Congress in 1989, which was held in Harrogate (UK) that year. "Just the thought of seeing the world famous James Herriot - who was to officially open the venue - in person, made us cross the border not exactly legally…". But it was worth each moment, and highlights included lectures from top class speakers and award-winning personalities including Steve Ettinger. Gabriel recalls, how, sitting in the first row and taking pictures of the event for his absent colleagues, the idea started in our minds, to create a companion animal association back home.
Seven months later witnessed the fall of Communism, unveiling new horizons. This allowed Gabriel to travel again - officially this time! – for a scholarship at the Veterinary faculty in Ghent (Belgium) to learn more about small animal medicine and find out about the activities of the local SAVA. Upon his return, in 1991, Gabriel continued to work at the small animal clinic at the Veterinary University in Kosice, of which he later became Head of the Rector's Office. Around this time, perfect conditions arose for co-ordination of the foundation of a Czech and Slovak Small Animal Veterinary Association, which was initiated in 1991 under Gabriel's impulse. "After a very successful first congress of our new association with more than 400 people attending, its Assembly approved to submit for WSAVA membership". In Rome 1992, as a national representative of the brand new CSAVA Gabriel Varga proudly applied for – and obtained - WSAVA membership. CSAVA also became FECAVA member in the same year.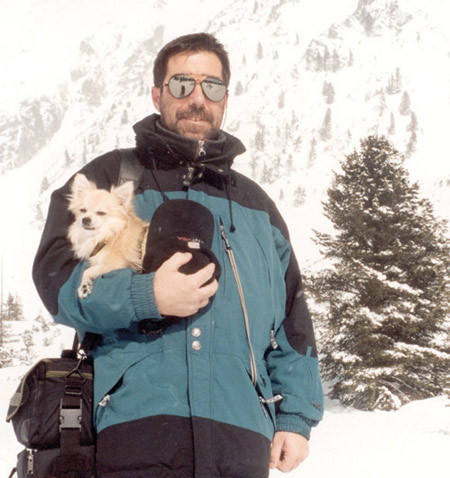 With mountain dog "Falco" in the High Tatra Mountains back in Slovania
Discussions in Rome gave birth to the Continuing Education Project in Central and Eastern Europe with two original founder countries, Czechoslovakia and Hungary. This project took up much of Gabriel's time, but to which he looks back upon with pride. "As a result of hard work of many people, our project has grown up to more than 20 countries on 3 continents with around 30 meetings a year today". But Gabriel's energy and input did not go unnoticed: In 1998 at the 23rd WSAVA Congress in Buenos Aires, he was elected a WSAVA Executive Board member, and will officially become President during this congress in Granada.
When not working or co-ordinating WSAVA activities, Gabriel enjoys travelling, biking, scuba diving and motor sports. He is married to Livia, a dentist, and the proud owner of a 7-year old Chihuahua named Falco.

---
WSAVA Elections
A new board in Granada
Smiles all around for the newly elected WSAVA Executive board. From left to right: Larry Dee (USA), the new president elect, Brian Romberg (RSA), vice president; Claudio Brovida (IT), past president; Hans-Klaus Dreier (AT), outgoing past president; Gabriel Varga (SK), president, and David Wadsworth (UK), honorary secretary. Missing on the picture: Terry Lake (CN), new on board as treasurer.

Elecciones WSAVA
Una nueva junta en Granada
Todo son sonrisas en la recién elegida Junta de WSAVA. De izquierda a derecha: Larry Dee (USA), el nuevo presidente electo; Brian Romberg (RSA), vicepresidente; Claudio Brovida (IT), presidente saliente; Hans-Klaus Dreier (AT), antiguo presidente; Gabriel Varga (SK), presidenten, y David Wadsworth (UK), secretario honorifico. Terry Lake (CN), nuevo tesorero, no está en la fotografia.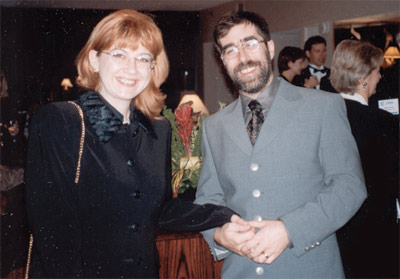 With wife Livia at the North American Veterinary Conference in 1999
Presidential plans
During his presidency, Gabriel looks forward to meet "all those enthusiastic people in different countries organising the local meetings - and to meet those famous speakers and see them in action." Gabriel adds that the WSAVA is grateful to them accepting to come to some of the more remote venues, including Siberia and Caucasus!
WSAVA projects regarding Continuing Education (CE), Animal Welfare and Micro-chipping will be sustained, and new ones will be launched. Regarding the CE project, new countries are to be explored - especially in Asia and Latin America - as well as new regions and continents on a long-term basis.
And for the first time ever, a WSAVA Day is to be held at the Panamerican PANVET meeting in November 2002 in Cuba, and more such meetings are planned in Central America. WSAVA furthermore adopted a new strategy of encouraging the regional member associations to help actively with these CE. As an example, the Norwegian Small Animal Veterinary Association will contribute to and assist in the organisation of the WSAVA CE Meetings in the Balkan peninsula in 2001 and 2002.
"As a result of hard work, the WSAVA Continuing Education Project has grown to cover 20 countries with around 30 meetings a year".
Furthermore, work is waiting in the area of specialisation, where Gabriel's predecessor, Claudio Brovida initiated very close contacts with various specialist groups such as the American College of Veterinary Dermatology and the European and American College of Internal Medicine. One of the outcomes of the discussions with these groups is the creation of the WSAVA Liver Standardisation group. This international specialist group is to lay down international standards for liver diseases, which are to be presented at the next WSAVA World congress. This will be held in Thailand, Bangkok in October 2003, and the new WSAVA president invites everybody "to join us there and enjoy the extremely warm hospitality of our Thai colleagues".



---