Chronic Skin Disease - Viacutan® and Dermocanis®

The condition of an animal`s coat will often reflect their general health status. While a bright, shiny coat is usually a sign of good health, a dull lifeless coat and scurfy skin can often indicate the first signs that the pet is feeling under the weather, or more commonly indicate primary skin disease.


---


Allergic skin disease in dogs is a chronic and frequently painful condition not unlike human excema. Whilst steroid treatment may control the itching, in the longer term side-effects are common with these medicines. Nowadays, the treatment of skin disease in dogs is centred around using a combination of treatments in order to minimise the occurrence of side effects in the longer term. Vetmedica provides a co-ordinated portfolio of canine dermatology products to achieve this goal:

Boehringer has developed a range of non-pharmaceutical products, high in natural essential fatty acids, which are essential in maintaining skin condition and moisture content. Viacutan® (a oral supplement available in both airless-pump and capsule form) and Dermocanis High GLA Shampoo® both contain high concentrations of the essential fatty acids (GLA) which have been demonstrated to aid in the maintenance of normal healthy skin.

Voren Suspension® and Voren 14® provide an alternative when the application of GLA-based products are insufficient to control the discomfort associated with itching. Whilst steroid use is ideally limited in the control of acute dermatitis, both products provide potent and effective tools in the management of acute flare-ups.


Boehringer Ingelheim Vetmedica GmbH
Binger Str. 173
55216 Ingelheim am Rhein
+49-6132-77-86 42
+49-6132-77-58 07
vetservice@ing.boehringer-ingelheim.com
http://www.boehringer-ingelheim.de

Tell a friend | Print version | Send this article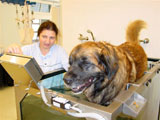 Physiotherapy on Dogs: the KEIPER Underwater Treadmill
Aquatic therapy, also called hydrotherapy, aqua training or underwater training, is a very effective method of rehabilitation in dogs to build up muscle strength and improve mobility without any additional stress on the joints.