Active Ingredient
Praziquantel; Pyrantel embonate

Category
Endoparasitizides

Target Species
Cat

Mode of Action
Praziquantel: Praziquantel kills mature and immature development stages of tapeworms in the intestine after a single treatment. Within a few seconds of the tapeworm coming into contact with praziquantel its interaction with phospholipids and proteins causes damage to the tegument. The inflow of Ca+2ions results in an immadiate contraction of the entire strobila. Moreover, these changes lead to a reduction of glucose intake and an accelerated depletion of energy reserves. Pyrantel embonate: Pyrantel, an anthelmintic of the tetrahydropyrimidine group of compounds, acts in a similar way to levamisol, by inducing a depolarising neuromuscular blockade. Pyrantel, being a cholinergic agonist, acts as an excitatory neurotransmitter at the nicotinergic receptor causing spastic pralysis of the parasite.

Indication/Description
Praziquantel: 2-(cyclohexylcarbonyl)-1,2,3,6,7,11b-hexahydro-4H-pyrazino(2,1-a)isoquinolin- 4-one (CAS-No. 55268-74-1) Pyrantel embonate: (E)-1,4,5,6-tetrahydro-1-methyl-2-[2-(2-thienyl)ethenyl]pyrimidine and 4,4`-methylenebis[3-hydroxy-2-naphthalenecarboxylic acid (1:1) (CAS-No. 22204-24-6) ; DRONTAL possesses an extremely wide spectrum of activity which covers infestation with the following cat nematodes and cestodes: Nematodes: Ascarids: - Toxocara cati - Toxascaris leonina Hookworms: - Ancylostoma tubaeforme - Ancylostoma braziliense Cestodes: - Echinococcus multilocularis - Dipylidium caninum - Taenia spp. - Joyeuxiella pasqualei - Mesocestoides spp.

Chemical Structure

Praziquantel:

picture - chem_structure_drontal_prazi

Pyrantel embonate:

picture - chem_structure_drontal_pyra


Method of Administration
The tablets are given orallyt to the animal, preferably concealed in a piece of meat, cheese, or titbit. No special dietary measures are required either in adult cats or in kittens. The product is given as a single dose (administration over several days is not necessary).

Dosage
1 tablet per 4 kg bodyweight


Tell a friend | Print version | Send this article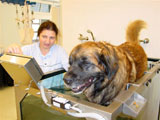 Physiotherapy on Dogs: the KEIPER Underwater Treadmill
Aquatic therapy, also called hydrotherapy, aqua training or underwater training, is a very effective method of rehabilitation in dogs to build up muscle strength and improve mobility without any additional stress on the joints.