Essential Facts of Physiotherapy in Dogs and Cats

with educational video on DVD
ISBN 3-938274-09-3
€ 59,95
Barbara Bockstahler, David Levine, Darryl Millis

The rehabilitation/physical therapy modalities available today supply fast and effective treatment strategies for postoperative care and pain management.


---

Contents Include:
Introduction to Small Animal Physiotherapy

Basic Concepts of Physical Therapy

Pathophysiology of Pain

Examination of the Physical Therapy Patient

Physiotherapy - What and How

Indications, Classification according to location

Economic Aspects of Physical Therapy

Contents of the DVD:

Physiotherapeutic examination

Massage

Exercise Therapy

Electrotherapy

Extracorporeal Shock Wave Therapy (ESWT)

Underwater Treadmill

In the present book, renowned European and American veterinary scientists have compiled their long years of experience in the application of these techniques in veterinary practice. It currently is the only book on the market specifically geared towards the practical implementation of these potent treatment methods in veterinary medicine. Each treatment modality is clearly and concisely described using extensive tables and illustrations.

To ensure simple and selective implementation of the treatments, we have included:
Teatment protocols in `Indications`, the chapter in which all orthopedic and neurological indications for physical therapy are discussed.

Training videos to all treatment modalities on the DVD, including all important details and numerous tips to ensure easy mastery of the techniques in individual home study.
Physical therapy encompasses an endless variety of treatment possibilities. The treatment modalities included in this book were selected with the following goals/criteria in mind:
Significant reduction of rehabilitation time after surgery

Fast and effective pain management for patients with acute and chronic pain
Optimal postoperative care of orthopedic and neurological patients, or as an alternative to surgery in cases where surgery is not feasible for various reasons:

Easy mastery and application

Frequent use

Rapid onset of effect

Improve client-animal bonding by enlisting the animal owner in treatment

Cost-effectiveness

Authors: Barbara Bockstahler, David Levine, Darryl Millis



Buy this book

Further information www.be-vetverlag.com




Tell a friend | Print version | Send this article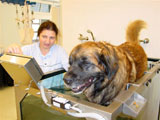 Physiotherapy on Dogs: the KEIPER Underwater Treadmill
Aquatic therapy, also called hydrotherapy, aqua training or underwater training, is a very effective method of rehabilitation in dogs to build up muscle strength and improve mobility without any additional stress on the joints.