Active Ingredient
Febantel; Praziquantel; Pyrantel embonate

Category
Febantel; Praziquantel; Pyrantel embonate

Target Species
Dog

Mode of Action
Praziquantel: Praziquantel kills mature and immature development stages of tapeworms in the intestine after a single treatment. Within a few seconds of the tapeworm coming into contact with praziquantel its interaction with phospholipids and proteins causes damage to the tegument. The inflow of Ca+2ions results in an immadiate contraction of the entire strobila. Moreover, these changes lead to a reduction of glucose intake and an accelerated depletion of energy reserves. Pyrantel embonate: Pyrantel, an anthelmintic of the tetrahydropyrimidine group of compounds, acts in a similar way to levamisol, by inducing a depolarising neuromuscular blockade. Pyrantel, being a cholinergic agonist, acts as an excitatory neurotransmitter at the nicotinergic receptor causing spastic pralysis of the parasite. Febantel: The mechanism of action of febantel is primarily based on interference with the carbohydrate metabolism of the worm. The suppression of mitochondrial reactions (inhibition of fumarate reductase) and interferencewith glucose transport act not only on all developmental stages of the helminths but also on the eggs containing the larvae. Benzimidazoles bind to the structural protein tubulin, thereby preventing its polymerization to microtubules which provide the transport system for the absorbing cells. The consequence of blocking this transport activity is incomplete absorption and digestion of nutrient particles and cellular autolysis through activation of lysosomal enzymes.

Indication/Description
Praziquantel: 2-(cyclohexylcarbonyl)-1,2,3,6,7,11b-hexahydro-4H-pyrazino(2,1-a)isoquinolin- 4-one (CAS-No. 55268-74-1) Pyrantel embonate: (E)-1,4,5,6-tetrahydro-1-methyl-2-[2-(2-thienyl)ethenyl]pyrimidine and 4,4`-methylenebis[3-hydroxy-2-naphthalenecarboxylic acid (1:1) (CAS-No. 22204-24-6) Febantel: Dimethyl [[2-[(methoxyacetyl)amino]-4-(phenylthio)phenyl]carbonimidoyl] biscarbamate (CAS-No. 58306-30-2) ; DRONTAL PLUS possesses an extremely wide spectrum of activity. Its uses cover infestation with the following dog roundworms and tapeworms: Roundworms: - Toxocara canis - Toxascaris leonina Hookworms: - Uncinaria stenocephala - Ancylostoma caninum Tapeworms: - Echinococcus granulosus - Echinococcus multilocularis - Dipylidium caninum - Taenia spp. - Multiceps multiceps - Mesocestoides spp.

Chemical Structure

Praziquantel:

picture - chem_structure_prazi2

Pyrantel embonate:

picture - chem_structure_pyra2

Febantel:

picture - chem_structure_feba

Method of Administration
The tablets are fed straight to the animal, preferably concealed in a piece of meat, cheese, or titbit. No special dietary measures are required either in adult dogs or in pups. The product is given as a single dose and need not be administered over several days.

Dosage
1 tablet per 10 kg body weight


Tell a friend | Print version | Send this article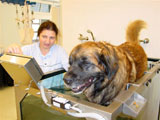 Physiotherapy on Dogs: the KEIPER Underwater Treadmill
Aquatic therapy, also called hydrotherapy, aqua training or underwater training, is a very effective method of rehabilitation in dogs to build up muscle strength and improve mobility without any additional stress on the joints.